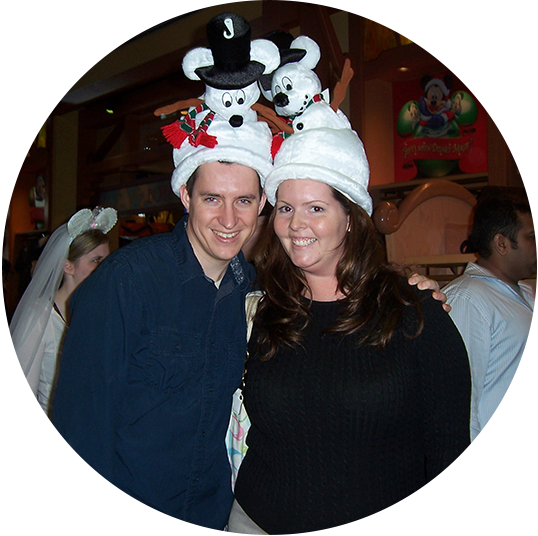 Where is that quote from?
The lie that started it all.
I wish I had a sappy love story about how we met and fell in love – but it really wasn't that simple for us. I was online one day and decided to put a bunch of random 'unthruths' on my Yahoo profile to avoid any weirdos from emailing me. Little did I know that it would bring Anthony straight to me! He contacted me about a movie quote that I had posted. He loved quotes and couldn't figure out where mine had come from! I decided to talk to him – he seemed harmless enough and I was impressed that he was raising his 2 kids by himself. So we decided to meet up for a very public dinner at Downtown Disney. We sat at a table next to an aquarium at Rainforest Cafe and talked about everything from work to the kids.
From Kristen: There wasn't an instant romance – that came in time. We just knew that it was easy to spend time together and our motivation and life goals were very similar. We made great friends and could chat for hours, but he respected the independence that I needed and my career goals that I wanted to achieve. He supported me in every level of that – encouraging me to start my photography business in 2009!
From Anthony:
We're Engaged!!
This day I marry my friend, the one I laugh with, live for, dream of, and love
Anthony and I had talked about marriage and knew without a shadow of a doubt we were going to get married, we even spent a Saturday afternoon looking at rings! It really only came down to the guessing game of when was he going to pop the question.
I had a business event near our apartment one Friday morning, and decided to eat lunch back at our place with my co-worker, Adrien. When I arrived at the apartment, it was spotless! I was so confused because our apartment was never clean (unless I was cleaning it). Even the bed was made! I panicked (to Adrien's confusion – she kept saying, What burglar breaks in and makes your bed and cleans your house?!) But I called Anthony in a craze anyways, demanding to know why the apartment was clean. He told me he came home from work in the morning because he wanted to go out to dinner that night, but knew I'd want to stay home and clean because my step-dad was driving in the next morning with my new car. Reluctantly, I fell for it – until I thought I heard Maddy in the background of his phone (who should've been in school). He played it off and said it was another kid in the restaurant where he was having lunch with coworkers. I let it go and headed back to the office.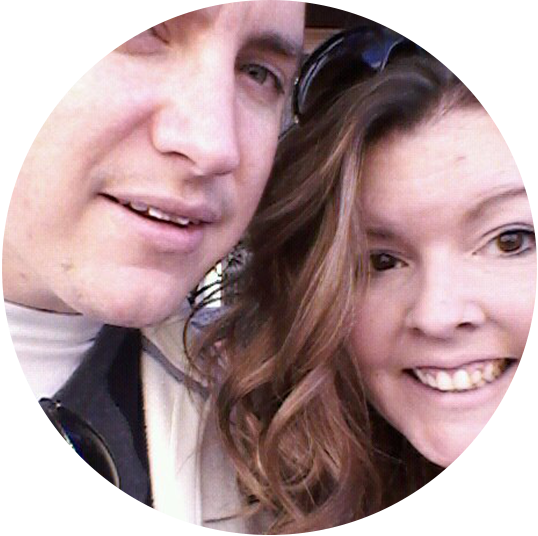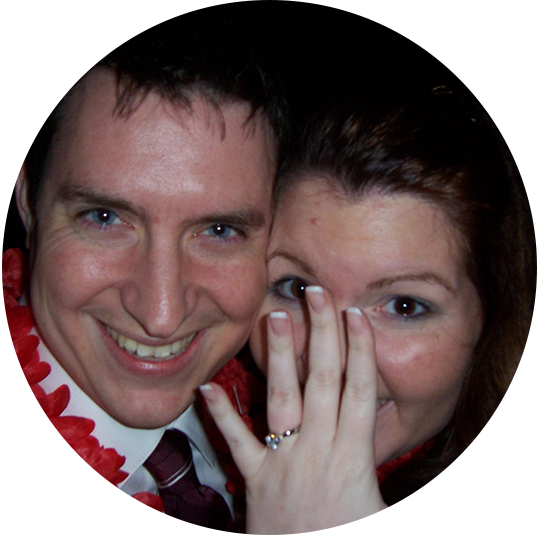 About an hour later, Adrien said she left the marketing stuff from the morning in my car and needed to go downstairs to grab it. I offered to help carry it up, but she said she'd grab one of the office boys (they all had a crush on her anyways). On her way back up, she said "Look who I found to help!" – and there was Anthony, with a rose and dressed up in a suit. I was SUPER confused, but he had called ahead to approve time off with my boss and Adrien and I got to leave work! He wouldn't tell me where we were going, but we eventually ended up at the Polynesian hotel at Disney (my favorite) for the dinner luau!
After the luau, he wanted to walk around the hotel and was acting super weird. I kept calling him out on it, but couldn't figure it out. Finally, he walked towards "the hill" at the Polynesian (side note: on our first date we were walking along the water at the hotel and I showed him the hill and said that when I was little I used to tell my mom I'd get married there). Another couple had just went up the hill and I didn't want to follow, but he kept walking! When we got to the hill, the other couple was friends of his from work with a portable DVD player (no iPads back then!). They gave us the DVD player and left back down the hill. When I watched the DVD – it was a long slideshow of so many pictures of us from the day we started dating! At the end, was a picture of the ring and he was on one knee and asked me to marry him!
Of course I said yes… and here we are, 6 years later, finally getting married!